Even if you already have an autoresponder series set up for your email lists, there's always more you can do to engage audiences through their inbox. Here are 15 essential email marketing templates you can use to power up your email message and drive ROI.
Welcome email
Welcome emails are a valuable email type for a lot of reasons. You can send them out when people sign up for your service, purchase a product, or download one of your lead magnets.
Sending out a triggered welcome email after these events reminds people that they signed up to receive emails from you (so they don't mark your messages as spam later on).
Welcome emails can also help your business make a positive first impression with leads or new customers. Use them to illustrate your value proposition, explain what your product/service is all about, and offer additional resources for people who want to learn more.
Here's an example of a good welcome email from Return Path:
New content email
Content marketing and email really do go hand-in-hand. Whenever you publish new cornerstone content, you can attract new traffic to it instantly by featuring it in your marketing emails.
Notifying subscribers about new content you've published is a great way to engage with them even if they didn't visit your site. If your goal is to attract subscribers back to your website, then just include a brief summary in the marketing email, and link back to the content.
Here's a recent new content email Buzzsumo sent out featuring their content marketer's guide to Reddit:
If you create a lot of valuable new content regularly, you might send out summary emails of your latest articles instead of dedicating one email to one piece of content.
Dedicated emails
One of the best things about email marketing is the ability to segment your audiences and deliver unique tailored content to them. If you send out the same emails to all your subscribers, you're seriously underutilizing your email marketing software capabilities.
Use insights about your subscribers' demographics, on-site behavior, and interests to send dedicated emails out to specific groups of people. Sending out VIP access to your brand advocates is a good example of this. Simply recommending content or products based on past behavior is another example.
Amazon uses past download behavior and machine learning technology to recommend different genres of Audible content in their marketing emails:
But you don't need AI technology to drive insights from user behavior and create dedicated emails tailored to their specific interests. Create these dedicated emails to drive specific behaviors from individuals on your list.
Invitations
You can use your email messages to invite subscribers to in-person events, social media live events, webinars, and other exclusive gatherings. It's possible to promote these things on your home page, in-pop ups or side bars, but they're less likely to reach people who already have a strong interest in your business and are likely to attend these events.
Email is the perfect place to present warm leads with invitations. Here's an example of an event invitation sent out to MarTech enthusiasts through email:
Segment out your warmest leads and target them with event invitation emails to get signups.
Lead nurturing email
Any savvy marketer knows that your blog is how you reach potential leads, and your emails are how you nurture them. Lead nurturing emails are about offering deeper value to subscribers to help them turn into customers.
Promote your most valuable resources to leads through email and it can drive other marketing goals as well. According to Quicksprout, leads that discover content through email are 3x more likely to share content on social media.
Here's a great lead nurturing email from Simply Measured that brings up pain points then addresses them with content:
Product/service recommendations can also be integrated into lead nurturing emails at the right point in the sales funnel. Then you can create optimized landing pages to drive sales from your email messages.
Product/service update email
Added a new feature to your digital product or changed your services? You'll want your current customers to know about it right away so they can start taking advantage of the changes.
Use your email messages to announce and explain the benefits of new changes you've made to your products or services.
Here's a great example of an email from OpenTable that informs about their updated rewards program:
As you can see, this email type is important for both brick-and-mortar and digital businesses. New software features can be announced in a similar way to encourage your current customers to test them out.
Newsletter
The newsletter is one of the most basic email types in the book… and it's a valuable one. People fear subscribing to businesses that spam their inboxes with endless emails, but offering a simple weekly or monthly newsletter can quell their worries.
Your newsletters can be a catch-all that encompass a variety of email topics, like a summary of your most popular content, new product features, announcing upcoming events, and more.
Here's one such aggregate newsletter from Zapier:
You can and should send these updates out as individual emails throughout the month to subscribers who signed up for and are responsive to these messages. But present your newsletter as a catch-all subscription option for people who don't like to receive constant emails from your brand.
Special occasions
Send out emails to your subscribers on special occasions, such as the holiday season, their birthday/anniversary, the back-to-school season etc. These kinds of emails are ultra-relevant, and can help drive other marketing goals.
For example, emails during November/December can help promote your products for holiday shopping. Emails that align with important life events can help inspire a subscriber to take action.
Here's an example of a birthday email from Betterment (a stock investing app), prompting the subscriber to start saving for the future:
Review requests
No matter what kind of business you run, online reviews are essential for marketing success.
Star rating is actually the number one factor consumers use to judge a business. Reviews can affect your online reputation, and in turn, the number of customers/sales you garner. Google reviews in particular can also affect your business' position in local search results and click through rates.
An often underutilized strategy for getting business reviews is simply asking. After a subscriber tries your product or makes a purchase, reach out to them by email asking to review. Provide a link to the platform you'd like them to post a review on (e.g. Google reviews, Yelp!, your native site).
Here's an example of a review reminder from Etsy, complete with a prominent CTA and a explanation of why you should review:
Brand updates
If your business is going through some changes, it's important to keep your current customers updated on what's happening. If you're going through a rebrand, changing management, discontinuing a service, etc., you can reach out and explain the changes to minimize any potential negative impact they may have.
Brand updates can help consumers gain and maintain confidence in a business that they purchase from. Here's a recent brand update Fitbit sent out describing the changes they're making to comply with the EU's GDPR regulations: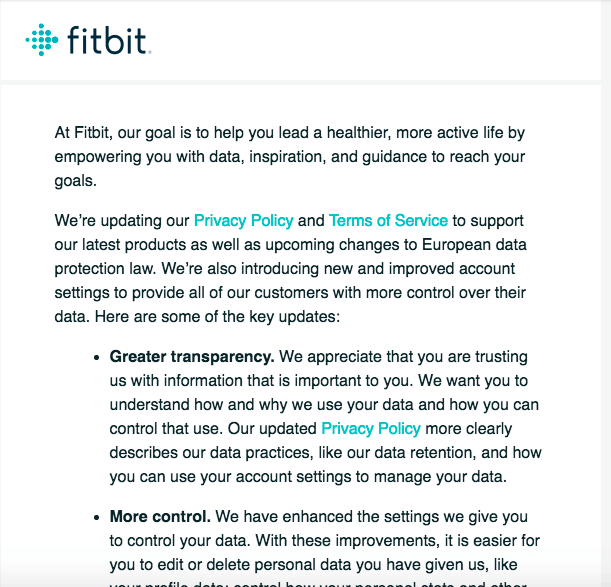 In general, most companies only send out brand updates when they're necessary. Others like to keep their subscribers in the loop with quarterly or yearly updates of business happenings and performance.
Survey email
Customer feedback is an important resource you can use for product development and assessing product-market fit. Reach out to your current customers through email to solicit feedback on the products/services they use.
You can also use surveys to better understand why people stop using your products or disengage with your brand. Here's an example of a survey email from Zapier, wanting to know why a subscriber didn't try out any of their product's features during their free trial:
If receiving feedback is very important to your brand, you can always offer discounts or other incentives to encourage your subscribers to fill them out.
Tutorial email
If you offer a digital product, tutorial emails are essential to help educate your subscribers on how to use its features. It's worthwhile to send out tutorial emails when new subscribers sign up for a free trial or purchase your product. They're also relevant to send out to your email list as a whole whenever you add a new feature to your product that needs explanation.
Here's a nice tutorial email from Pinterest:
Tutorial emails don't necessarily have to be about showing how to use your products. They can also serve as lead nurturing content. For example, a domain hosting platform could send out a tutorial email showing how to set up a blog on WordPress. It has nothing to do with their product, but it's valuable content for their target audience.
Re-engagement email
Re-engagement emails serve a dual purpose for marketers:
They help dropped off leads reenter the funnel,
They help you clean and maintain your email lists.
Design reengagement emails with a personalized message aimed at catching a subscribers' attention. Target people who haven't purchased from your business in a long time, or haven't clicked on and read your emails in 6 months or more. If your engagement efforts fail, you might consider removing them from your lists. Continuously sending out emails to people who never engage is bad for your sender reputation.
Here's an example of a re-engagement email from Typeform. They explicitly remind people they can unsubscribe from future messages if they want: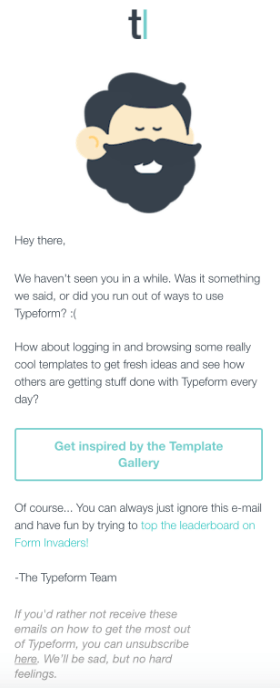 Social media emails
Many marketers don't realize that their email lists isn't the only way to reach their audience's inboxes. There are a lot of different ways to connect with your audience on social media platforms, and they'll receive email updates as a result.
For example, some people leave email updates from Facebook groups enabled. If someone follows one of your topics on Scoop.it, they should receive regular email updates when you post new content. LinkedIn Groups also sends out regular email updates to group members:
If you're a LinkedIn Group administrator and send out an Announcement, it goes right to members' LinkedIn inboxes. If you create a Google+ event, the invites also go right to people's email addresses.
You should keep these social media touch points in mind when developing your marketing message. Targeting your audience through social media can give your emails a chance to get out of the "Promotions" tab (on Gmail's interface anyway).
Promotional emails
The last and probably most important email type you can send out are promotional emails. It might seem counterintuitive for email marketers that are focused on lead nurturing.
But blatant product promotion works in email, because receiving special deals and discounts is one of the main reasons people sign up to receive emails from brands. Consumers who purchase products through email also spend 138% more than those that don't receive email offers.
They key to sending out promotional emails is frequency. Don't spam your subscribers' inboxes, and offer enough value and scarcity to peak their interest so they click through. Here's a promotional email from Old Navy that instills a sense of urgency in subscribers to act today:
You can easily do this with digital products as well by making the promotional offer available for a limited time (or for a limited number of signups).
Wrapping up
Some of the email types mentioned in this post should be familiar, while others might be a new opportunity to engage your subscribers. Regardless, the best strategy is to use a variety of email types together to deliver the right kind of message to move leads down the sales funnel.
So pick and choose the best email marketing templates, then stitch them together into a more diverse email marketing strategy, complete with autoresponders and trigger emails. Then see for yourself how they work together to grow your online business.